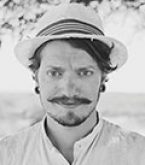 Mikael Pedersen is a versatile designer / interior designer originating from the outer edge of Northern Norway. The barren, quiet and endless arctic landscape influenced in shaping Pedersen to become a creative and unusual designer with a taste for the exploratory, nuanced and aesthetic.
"I want to create useful objects that are pleasing to both the eye and the mind, objects that tell a deeper story for the responsive person. For that I need to use my skills as a craftsman, my sense of harmony and rhythm as a musician and my compassion as an artist."
In 2013 Pedersen obtained his degree within Furniture and Interior Architecture at the Bergen National Academy of the Arts. He still lives in Bergen where he continues to work with his interdisciplinary approach to design.